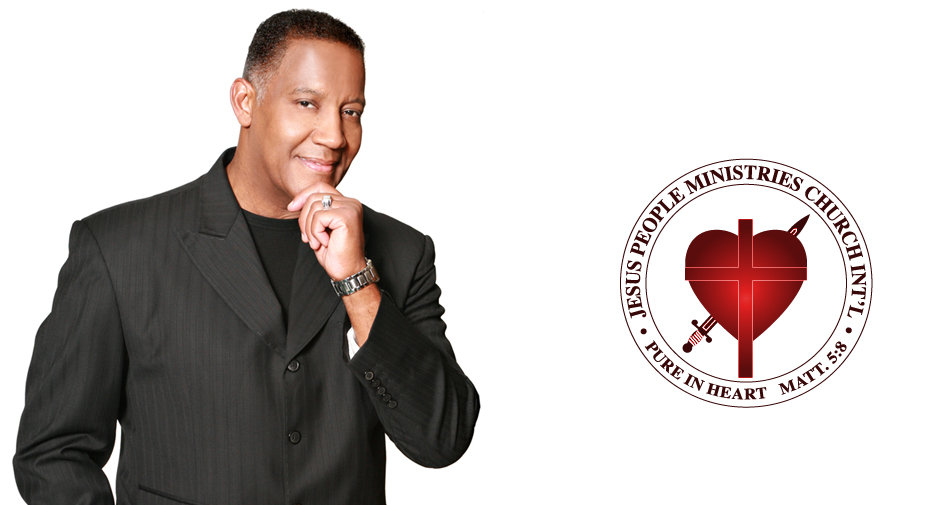 Bishop Isaiah S. Williams, Jr. D.D.,D. MIn
Bishop Isaiah S. Williams Jr., D.D., D. Min., Senior Pastor, Founder and CEO of Jesus People Ministries Church International, Inc., was received home to be with the
Lord on Thursday, July 2, 2009.
Bishop Williams was born and raised in the city of Miami, where he grew up as the great-grandson, grandson and son of founding AME pastors and church stewards. He was the third of six children of the late Isaiah S. Williams Sr., and Agnes Williams. It was at the age of 12 that he met his wife, Dr. Gloria, in secondary school and they were married in June of 1974. Bishop Williams has two daughters, Lori and Richelle.
Bishop Williams served in the United States Navy as a Navy Shipman. While in the military, before being called to the ministry, Bishop Williams was blessed to travel extensively throughout many different regions of the world. It was aboard the prestigious John F. Kennedy Aircraft Carrier in February of 1977 that Bishop Williams experienced a life changing conversion that led to a personal relationship with Jesus Christ on February 26, 1977.
In 1983, the call of God was confirmed and set in motion as Bishop Williams started the work of Jesus People Ministries Church International, Inc. Since its beginning, the church has grown to over 8,000 members and through its progressively growing membership, the ministry has an even larger number of partners throughout Florida, the United States and the world. The heart of Jesus People Ministries Church is one of domestic and foreign missions outreach with an evangelistic thrust.
Bishop Williams excelled as a student and athlete and was awarded a basketball scholarship to John J. Pershing College (Beatrice, NE), where he remained until he joined the United States Navy. Bishop Williams attended Miami Christian College and New Orleans Baptist Theological Seminary and also received a Bible Diploma from Dr. Lester Sumrall's World Harvest Bible College. In 1991, he received an Honorary Doctor of Divinity Degree from All Nations of Christ Institute International, a previous affiliate of Oral Roberts University. In 2004, he received an earned Doctorate of Ministry Degree from Vision International University (Ramona, CA).
Bishop Williams taught and proclaimed the truth of the uncompromising Word of God with integrity, fervor and sound character. He operated in the full apostolic offices of the Apostle, Prophet, Pastor and Teacher, with the gifts of the Spirit in vivid operation.
He served as an accomplished author and an acclaimed conference speaker. He was an overseer of a vast number of affiliate ministers and ministries under the direction of ISWJR Ministries, and Right Connection Ministries, Inc.
Bishop Williams was elevated to the office of Bishop in April 1996, through the Azusa International Fellowship of Christian Churches and Ministries, Inc. (Tulsa, OK). JPMCI is currently a member of Creflo Dollar Ministerial Association (Atlanta, GA).
Bishop Williams has served on several boards of ministries from around the country: Ruling Elder and Southeast Regional oversight Pastor of Azusa International Fellowship of Christian Churches and Ministries (Tulsa, OK); Dean of Ministries, IWO International Pastor's Conference (Baltimore, MD); Founding Director, Integrity Leadership Ministries (Dallas, TX); Advisor to Evangelist Tim Storey International Ministries/Champion Conference (Phoenix, AZ); and Chairman of the Board, Hogar Renacer (Drug Rehabilitative Program/Miami, FL).
In addition, Bishop Williams and Dr. Gloria were frequent hosts of South Florida's "Praise the Lord" television program broadcast on the Trinity Broadcasting Network and on the TBN's nationally televised broadcast. Bishop Williams and Dr. Gloria are the executive producers and hosts of the weekly television broadcast "Right Connection" seen worldwide.
Bishop Williams was also the President and CEO of The Justice, Potential and Motivation (JPM) Centre located in Miami Gardens, Florida. The JPM Centre serves as an oasis for economic and social development in the city of Miami Gardens and its neighboring sectors. As a community development corporation, the Centre will emphasize building cultural diversity, economic stability and moral presence within society; providing elderly housing, housing for at risk youth, enriched cultural and performing arts entertainment, recreation and more.
He was the Presiding Bishop and Overseer of Right Connection Association, which serves as a spiritual covering and apostolic networking association of ministers, ministries and business leaders. Bishop Williams was the President of ISWJR Ministries, founded as a ministry that infiltrates the world with the sincerity and simplicity of the Gospel of Christ Jesus.
Bishop Williams served - not only as a spiritual voice - but as a community activist as well. He responded to the needs of the citizens of Miami as an official sworn Police Chaplain for the Miami-Dade Police Department.
Under Bishop Williams' leadership, Jesus People Ministries Church International was presented a "Key to the City of Miami" by the Mayor's Office of Dade County; a "Key to the City of Opa-Locka" and a "Key to the City of Rockledge." Bishop Williams was the recipient of numerous proclamations from the cities throughout the communities.
Bishop Isaiah S. Williams, Jr. was a dedicated and devoted people.
The teachings of Bishop Isaiah S. Williams Jr. compelled all to elevate in their total man, (spirit, soul and body). He was known for his spirit of excellence through Christ Jesus and carries the title and nature of a Giant Gentleman with class, poise and power. This mighty man of God has been and will forever be a mentor to all those that caught hold to his spirit, a brother to those that walk the straight and narrow path of righteousness, and a true Servant of the Most High God.